Please join us for this LIVE educational event on the 3rd December 2022 for the upcoming ADCARE AcADemy in South Africa. This will be an in person live educational event.
Location: Courtyard Hotel Waterfall City
13 Karkloof Street,
Jukskei View Extension 124
1685 Johannesburg, South Africa
Time: Starting at 08:30 – ending at 17:00
Delegates free registration includes attendance at all talks, light refreshments, coffee breaks and a lunch buffet.
Our compact agenda covers updates in Pathophysiology of AD – molecular pathways, Therapeutic patient Education in AD, Hands-on workshop How can I improve the management of Atopic Dermatitis?, A practical approach to the current diagnosis and treatment of AA and much more! Check out the recent publication on the ongoing need for educational events in South Africa!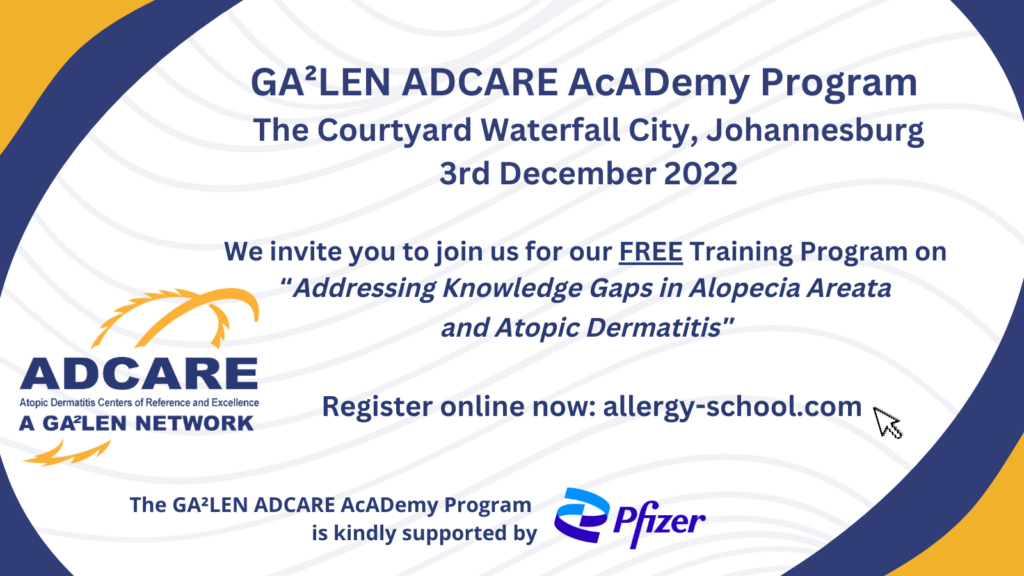 GA²LEN ADCARE AcADemy – "Addressing Knowledge Gaps in Atopic Dermatitis and Alopecia Areata"
The Courtyard Waterfall City, Johannesburg – 3rd December 2022. Make sure to book your place now in order not to miss out on our compact and exciting educational event.
Our GA²LEN Faculty is led by Dr Willie Visser Head, Division of Dermatology at Stellenbosch University and Tygerberg Academic Hospital. Speakers inlude Dr Suretha Kannenberg, Dr Tshepo Mokwena, Dr Lushen Pillay, Dr Nivana Ramlachan, Dr Ameshin Moodley and Dr Tarryn Jacobs.
Join all the experts and update your knowledge in Atopic Dermatitis and Alopecia Areata.
---
ADCARE AcADemy Johannesburg Delegate Registration – 3rd December 2022, The Courtyard Waterfall City Hotel.